The Spanish Spider (Torture)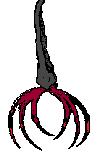 The Spider was designed to mutilate a woman's breasts. The spider is nothing but a variation of the famous breast ripper, though the spider is believed to be more painful.

The spider was usually chained to the wall - the claws were usually heated before being fixed to the woman's breasts. The torturer just had to pull the woman away from the wall to successfully remove her breasts.

This was a brutal punishment that often resulted in the victim's demise. Fortunately, it was rarely used and only reserved for women who committed very serious crimes: deliberate miscarriage and adultery.

The spider is also known as the Spanish Spider because it was used during the Spanish Inquisition.