The Brazen Bull (Torture)

The brazen bull is an executionary device first invented in Ancient Greece.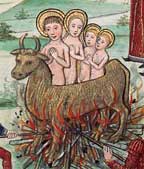 Its inventor, Perillos of Athens, proposed to Phalaris; a tyrant, the need of a more painful way to kill criminals. This was done hoping to disuade the poor population from committing any more crimes.

As the story goes, when Perillos finished the brazen bull, Phalaris asked Perillos to try it out by himself. He then ordered him locked inside the brazen bull and set a fire underneath it. He was very pleased with the results. Being burned alive was a very exciting act to watch.

When a victim is placed inside the brazen bull, he or she is slowly burned to death. This device gradually became more sophisticated until the Greek invented a complex system of tubes in order to make the victim's screams sound like an infuriated ox.

Even though this torture was not used as frequently during the Middle Ages as it was used earlier by the Greek and Romans, it was still used in Central Europe. This torture is similar to being boiled alive.